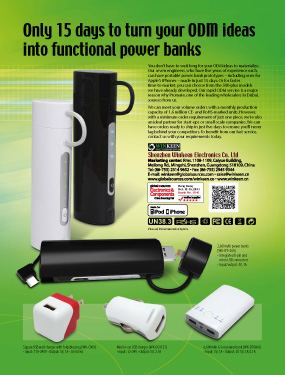 Share:




E-mail

Print

Bookmark
Shenzhen Winkeen Electronics Co.,Ltd.

Follow me

Only 15 days to turn your ODM ideas into functional power banks

5 Star China (mainland)
Research and Development

R&D Staff
More than 99


Machinery/Equipment for R&D
Well equipped computer hardware and software
Material testing machine
PCB testing machine
Devices age testing machine




R&D team studies customer's ODM project


We always provide ideas for your option

Locations
SHENZHEN


Profile
With customers' request message or OEM/ODM Specification, R&D manager will meet staff to discuss the best way to proceed, then a plan will be born to show the cusotmer for approval.


More Information
Contact Details




Shenzhen Winkeen Electronics Co.,Ltd.
P.O. Box: 518109
1108-1109, Caiyue Bldg,
Meilong Road, Mingzhi,
Longhua
Shenzhen
Guangdong
China 518109
Tel: (86 755) 23149652 Ext : 810 (86 755) 29459344 Ext : 815
Fax: (86 755) 33894192
Mobile: (86) 18927483503


Homepage Address
http://www.globalsources.com/winkeen.co
Other Homepage Address
www.winkeen.cn


Chat with supplier using:

Key Contact:
Mr Zhang, Kevin
Marketing Manager
Marketing Department


Headquarters/Head Office

1408, Cambridge Road, TST,
Hong Kong SAR 0


Supplier and product information updated May 18, 2013.